The Journey Till now...
Hello World !!!
Hi! My name is Samrat kar.I'm an Indian. I was born and brought up in a small town in India called Bhilai in the Chattisgarh State.I was born on September 22,1977.
I
came accross this site which lets you allow to host your pages for free so I took up this oppurtunity to tell the world about myself.
Hope you will enjoy your journey through this web site.
Please fell free to leave your valueable suggestions/criticizms about this site on how it can be improved.
My Early days...
My schooling was from the best school around that area which was called Delhi Public School(aka DPS) which was quite expensive for a family like our's to afford.But my parents did their best to ensure I receive the best education available.I was quite average in studies and as far as I remember I hardly used to study except for before the exams.My parents used to make sure that the syllabus of a particular standard gets inside my fat head before the exams.They used to put more stress on mathematics and science subjects and didn't used to care much about my results in other subjects.My school timing used to be in the early morning and used to finish by afternoon.Most of the evenings we used to travel to our maternal uncle's whom who also stayed in the same city or we used to go to the local market for some refreshments. I remember we had a Lambretta scooter on which we used to travel and then we went on to buy a Fiat car and then a Suzuki car.
Bhilai is famous for its steel plant which was setup with help of Russian technolgy and is one of the largest steel plants in India.Because of this quite a large number of intellectual people in the country settled down in this town. They wanted their children to become like them, may be better than them. That is one of the reason why it has now become almost an educational capital in central India.This town has good track record of providing a large number of students in Premier educational institutions accross India and abroad.This is a reason why children in that town knew that only way to make a living is through studies. Because of this most of the students got a good flavour of cut throat competition right in their childhood.
The pattern of education in our school was quite effective and it used to make sure that students get a good grasp of their subjects.There used to be exams twice a week and the results of these tests used to be reflected in the final exams.Because of this exams the students had to study regularly and this helped the students to be upto date with the studies in the class and used to put less stress before the final exams. The teachings in the classes were so exhaustive that there was less need to study in the home.As far I remember I hardly used to read the books and my mom used to keep reading it loud infront of me and used to make me understand.My father used to train me in science and Maths.When I went to higher school there was a need to take private tutions which I had to take.
So in short my childhood was spent mostly amongst the books and my parents which sounds quite boring right?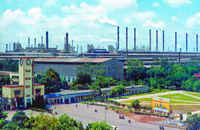 A view of Bhilai Steel Plant from the main Gate...
Another idea for my home page's text is notifying visitors about the enhancements I put on my site. For example, I want visitors to sign my guestbook or fill out my survey Form E-mailer to answer questions about my site, my business, or my site's topic.
Need some extra help building your site? Here are some topics that may be helpful.
My College days...
I was able to get admission in one of the premier colleges in India named Government Engineering College, Jabalpur in Electrical Engineering branch. The college had the reputation of being the oldest college in Madhya Pradesh state and third oldest college in India. The Electrical department had the privilege of having very educated and experienced faculty members. It had also the High voltage lab which was not present in any other engineering college in the country. Not to mention I had to face ragging in the first year in my college in both the physical and mental form. It was quite a torture, but now when I look back it seems it was fun. Many of the nights we had to spend our nights in the Railway Platform because of the fear of getting back to the hostel. We also had to write the Practical notebooks and drawings for our seniors during their practicals.Studies were almost a secondary activity those days. Having fun was our primary objective. Sometimes we would wake up to 4 o'clock in the midnight and play cards and then go to the local tea stall which would be open whole night. Almost every week we used to go to the local movie theatre or we used to have party. Studies in the class rooms were quite exhaustive and there was hardly any use of studying at home to get through in the exams. But if you wanted to score good marks, yes you had to work real hard. My college was 12 hours journey from my home town, so I used to visit my home about once in a month. Days went by and one day of a sudden I realized I had become an engineer. It was a very emotional moment to leave the college campus. There was not much campus recruitment from our college which was the saddest part even after being such a reputed college. So I had to sit at my home and keep trying for oppurtunities.But opportunities those days was very less for Electrical engineering and even for the very few opportunities there was much competition. So I decided to change my line and decided to join Software which was the most happening field those days.
My First Step into the computer's world...
Even if I don't put much text on my home page, it's a good idea to include hidden tools that will help me promote my site, so people other than my friends and family actually see it. For example, I could add meta tags, which are hidden codes that allow search engines to find my site. I could also install stats and a counter so I know how many people are visiting. If not many are visiting, submitting my site to search engines will guide more traffic to my site.